There is street art. How about a street cinema, that'd be solar powered and human powered? After a long research on circular animation, I patented the invention in october 2020.
Il y a le street-art. Et pourquoi pas un street-cinéma, tournant à l'énergie humaine et solaire? Après de longues recherches sur l'animation circulaire, j'ai breveté l'invention en octobre 2020.


Face the sun, spin your umbrellotrope, one tour per heartbeat, film with any smartphone (30 fps by default settings)... Enjoy!
Faites face au soleil, tournez votre ombrellotrope à un tour par battement de coeur, filmez le avec n'importe quel smartphone (30 images par seconde par défaut)... Enjoy!

Eventually, it also protects the skin from the solar agression, global warming, you know...
ça protège aussi éventuellement du soleil, et avec le réchauffement climatique....
UMBRELLOTROPES in stock
Hula Hop dancers
Limited edition of magic paper parasol, numbered (1-100), signed, and designed by Marie Paccou.
Print on rice paper, oiled to resist humidity.
Structure: bamboo, balsa ribs and cotton ties. Wood grip.

Edition limitée d'ombrelles magiques, numérotées (1-100), signées, et dessinées par Marie Paccou.
Quadrichromie sur papier de riz, huilé pour résister à l'humidité.
Structure: bambou, baleines en balsa et liens en coton. Manche en bois tourné.

Length closed: 58 cm
Diameter open: 84 cm

PRIX: 39 EUR
(+frais de livraison/ + shipping costs)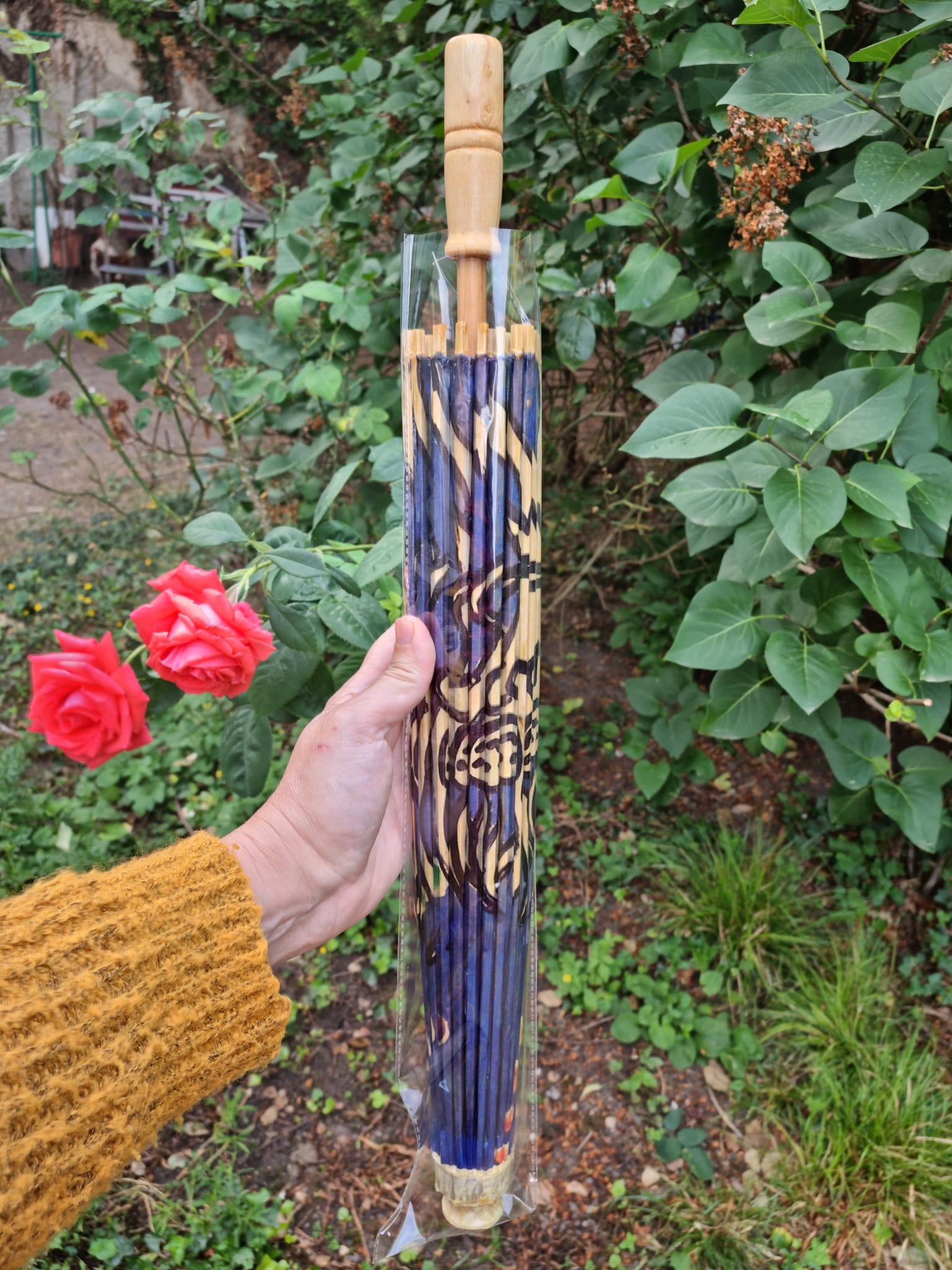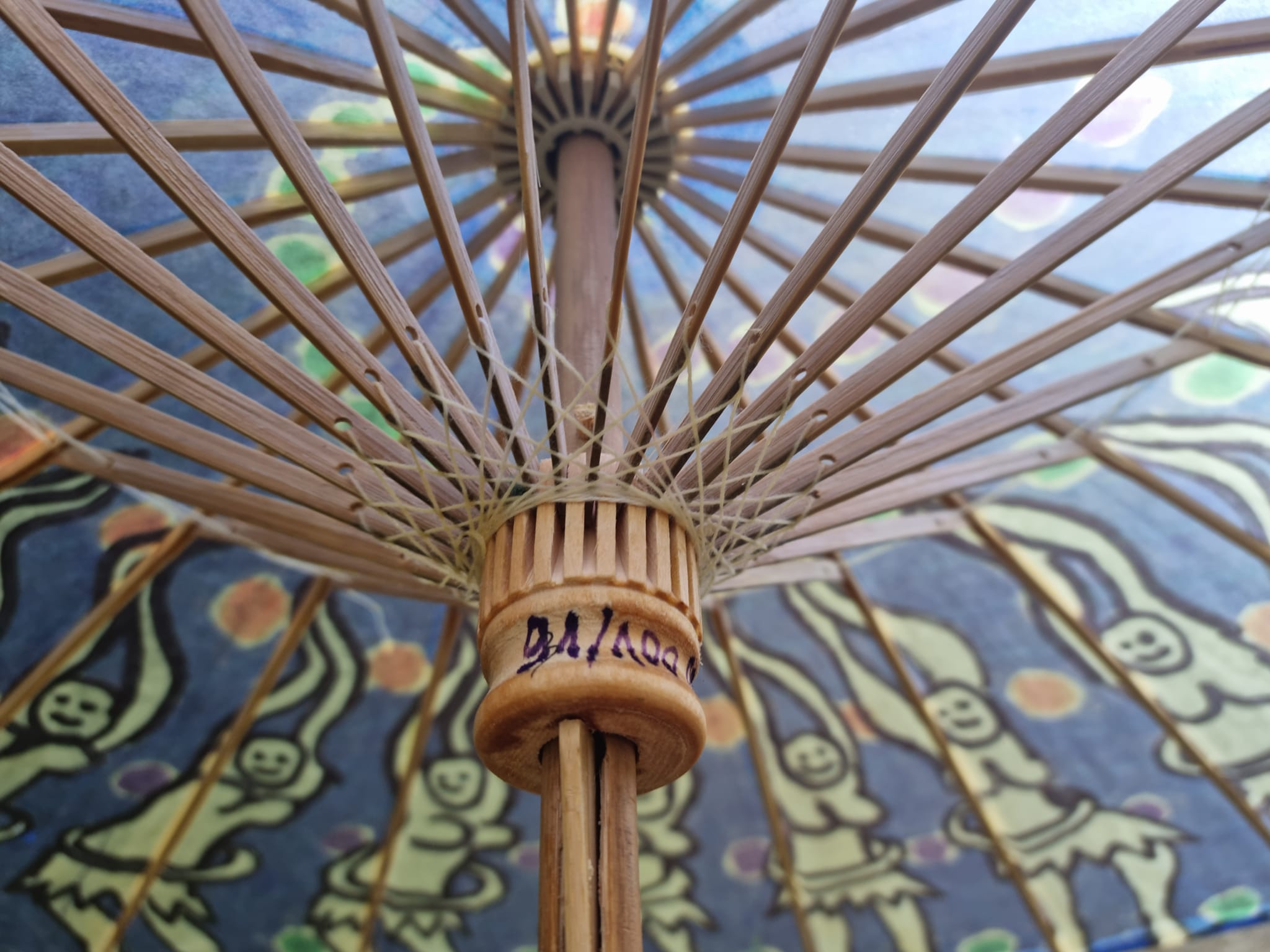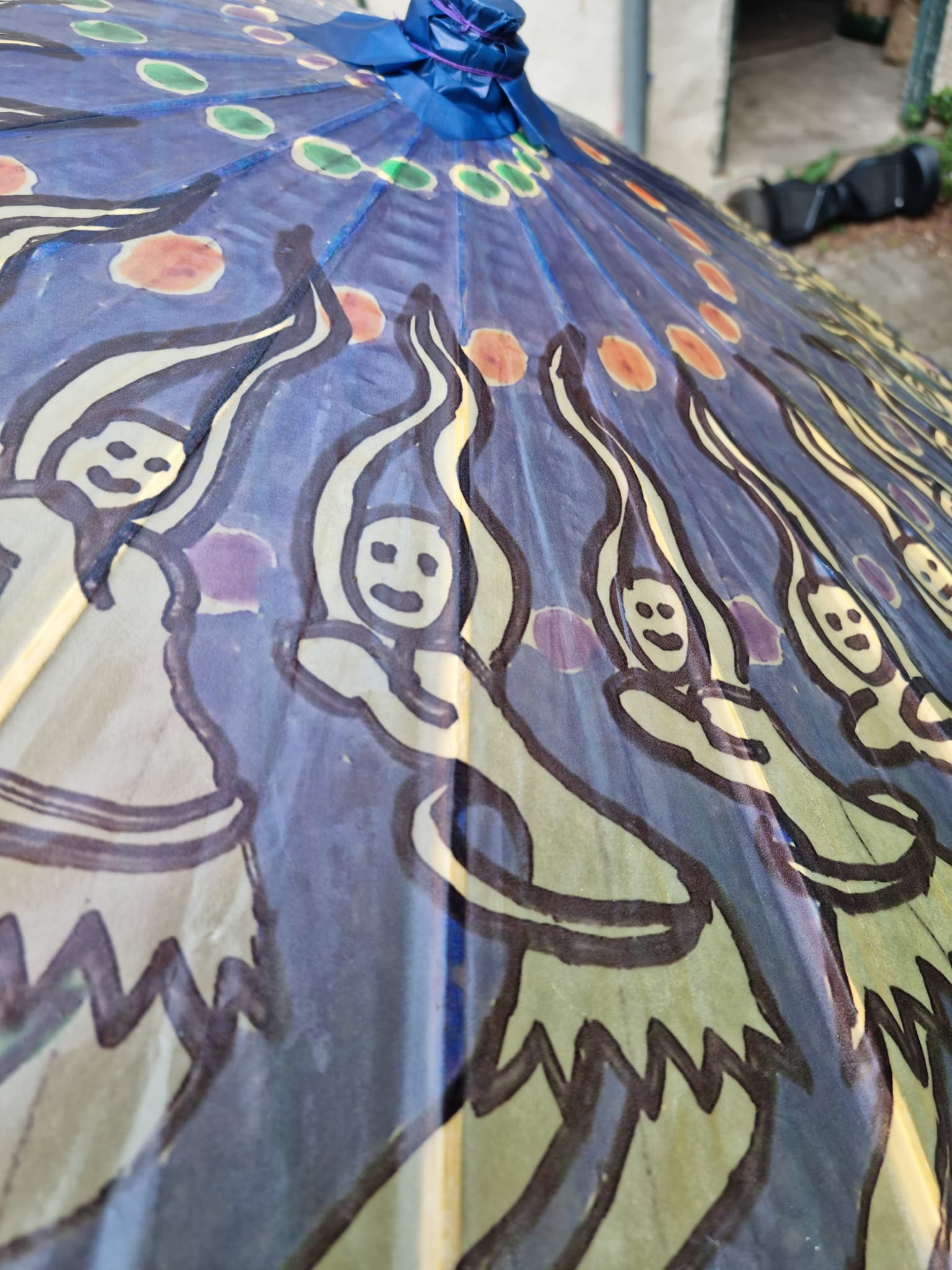 Goose walk
Limited edition of magic paper parasol, numbered (1-100), signed, and designed by Marie Paccou.
Print on rice paper, oiled to resist humidity.
Structure: bamboo, balsa ribs and cotton ties. Wood grip.

Edition limitée d'ombrelles magiques, numérotées (1-100), signées, et dessinées par Marie Paccou.
Quadrichromie sur papier de riz, huilé pour résister à l'humidité.
Structure: bambou, baleines en balsa et liens en coton. Manche en bois tourné.

Length closed: 58 cm
Diameter open: 84 cm

PRIX: 39 EUR
(+frais de livraison / +shipping costs)

Ufo watchers
Limited edition of magic paper parasol, numbered (1-100), signed, and designed by Marie Paccou.
Print on rice paper, oiled to resist humidity.
Structure: bamboo, balsa ribs and cotton ties. Wood grip.

Edition limitée d'ombrelles magiques, numérotées (1-100), signées, et dessinées par Marie Paccou.
Quadrichromie sur papier de riz, huilé pour résister à l'humidité.
Structure: bambou, baleines en balsa et liens en coton. Manche en bois tourné.

Length closed: 58 cm
Diameter open: 84 cm

PRIX: 39 EUR
(+frais de livraison / +shipping costs)

Sleepwalkers
Limited edition of magic paper parasol, numbered (1-100), signed, and designed by Marie Paccou.
Print on rice paper, oiled to resist humidity.
Structure: bamboo, balsa ribs and cotton ties. Wood grip.

Edition limitée d'ombrelles magiques, numérotées (1-100), signées, et dessinées par Marie Paccou.
Quadrichromie sur papier de riz, huilé pour résister à l'humidité.
Structure: bambou, baleines en balsa et liens en coton. Manche en bois tourné.

Length closed: 58 cm
Diameter open: 84 cm

PRIX: 39 EUR
(+frais de livraison / +shipping costs)

Geometric Rainbow
Limited edition of magic paper parasol, numbered (1-100), signed, and designed by Marie Paccou.
Print on rice paper, oiled to resist humidity.
Structure: bamboo, balsa ribs and cotton ties. Wood grip.

Edition limitée d'ombrelles magiques, numérotées (1-100), signées, et dessinées par Marie Paccou.
Quadrichromie sur papier de riz, huilé pour résister à l'humidité.
Structure: bambou, baleines en balsa et liens en coton. Manche en bois tourné.

Length closed: 58 cm
Diameter open: 84 cm

PRIX: 39 EUR
(+frais de livraison / +shipping costs)

<